Hypertherm Powermax 125 Combo Hand Plasma Cutter (415V)
Information
Information
At Premier Welding we aim to offer amazing value for top quality products. We have put together a selection of machine's and accessories in "ready to weld" packages to suit all needs and budgets.
This package includes
Powermax 125 Plasma Cutter [400V, 3PH]
Duramax 15degree x 7.6mtr 125amp Hand Cutting Torch
75degree x 7.6mtr 125amp Hand Cutting Torch
Wheel Kit
Consumable Starter Kit
CUT CAPACITY
Recommended Cut - 38mm
Maximum Cut- 44mm
Severance - 57mm
Pierce - 25mm
DESCRIPTION
Professional-grade plasma metal cutting and gouging system for handheld cutting 38 mm and mechanized piercing 25 mm. This plasma cutter is able to master even the most toughest cutting and gouging jobs. .
MAXIMUM PRODUCTIVITY
Finish jobs faster with cut speeds 5 times greater than oxyfuel on 12 mm mild steel.
Spend less time on grinding and edge preparation due to superior cut and gouge quality.
Maximize your cutting time with 100% duty cycle.
LOW OPERATING COSTS
Reduce costs with consumable life up to four times longer than other systems in this amperage range.
Electrode end-of-life detection protects the torch and workpiece from damage by automatically stopping power when the electrode is overused
EASY-TO-USE FOR CUTTING AND GOUGING
No need to change the air pressure. Smart Sense™ technology ensures that it is always correctly set.
Tackle different jobs with multiple, easy-to-use torch styles.
BUILT AND TESTED TO WITHSTAND THE HARSHEST CONDITIONS
Duramax™ Hyamp™ torches are designed for high-impact and heat resistance.
SpringStart™ technology ensures consistent starting and a more reliable torch.
Low maintenance maximizes uptime.
APPLICATIONS
DRAG CUTTING
For dragging the torch directly across the work piece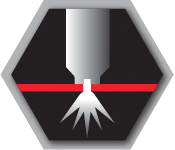 FINE FEATURE CUTTING
For narrow kerf width with minimal dross and heat affected zone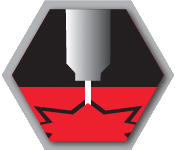 FLUSH CUTTING
For cutting closer to base materials using a 45 degree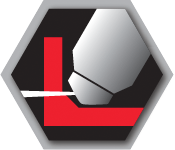 MAX CONTROL GOUGING
For precise metal removal, shallower gouge profiles and light metal washing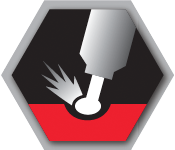 MAX REMOVAL GOUGING
For aggressive metal removal, deep gouge profiles and extreme metal washing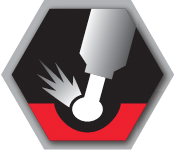 MECHANIZED CUTTING
For portable automation and table cutting
UNSUPPORTED APPLICATIONS
For improved visibility & accessibility when cutting in confined spacesTry Powermax105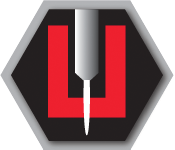 For improved visibility & accessibility when gouging in confined spaces Try Powermax105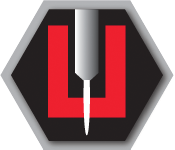 For scoring, indicating part identification, hole or weld locations Try Powermax45 XP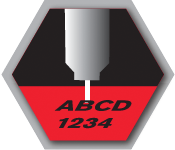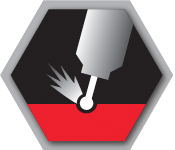 CLICK HERE FOR BROCHURE/SPEC SHEET